Conveniently located near Allentown off I78, Exit 49B. Travel 1/2 mile north on Route 100. Madeline's is located on the left across from the Lehigh Hills (Weis) Shopping Center. Casual fine dining at its best with extensive wine menu, cozy dining rooms, enclosed patio, daily specials made fresh every day.
One visit and you'll know why Madeline's is "Where Friends Gather."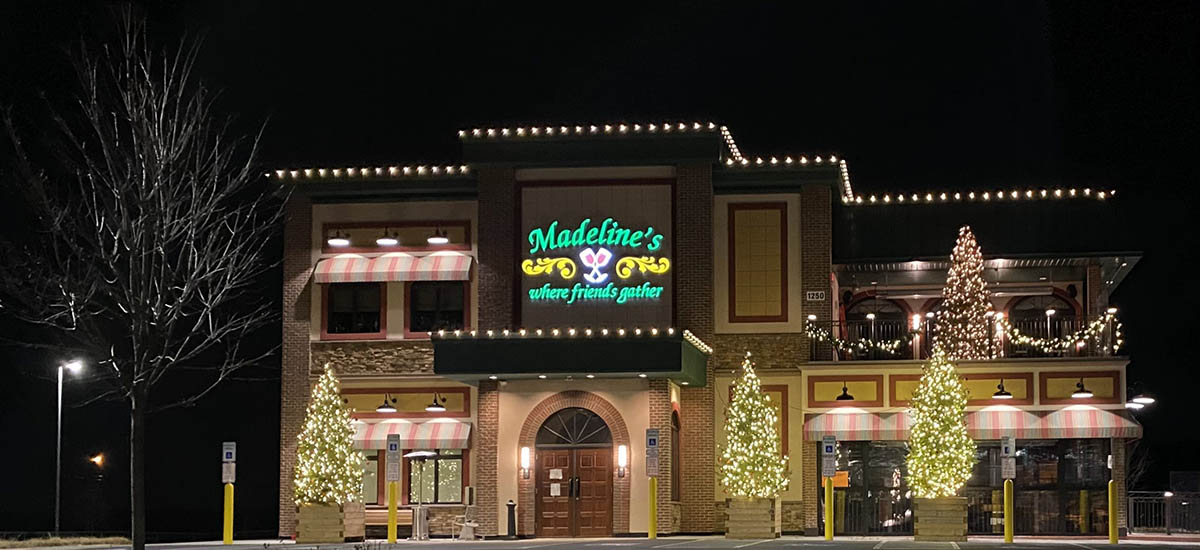 madelines-action-shot-making-a-drink
madelines-front-night-shot
WHAT DINERS ARE SAYING ABOUT US:
First time there tonight. although we only had burgers – which were amazing – I would definitely recommend this place. By looking at and smelling all the other food served, everything seemed very good. Our waitress – Michaeline – was very nice and on her A-game. I would suggest making a reservation especially on the weekend. we didn't but lucked out by getting the last table available on the patio without having to wait
Julie F.
Excellent restaurant! Definitely going on our rotation list. Class act all the way. The cook(s), the server, support staff, hostess…all the best!
Robert Grant
Awesome restaurant and great food and service! You must try this place!!
Judy W.
Excellent lunch, delicious desserts. Wonderful waitress (Gail). Creative cuisine.
Sandy K.
Love sitting outside on the patio and I love the palm trees are back. Good food, friendly staff. Love the place.
Sharon D.
Our waiter Jake, served our party of 12 some delicious food with a handsome smile!
This is a special place. …One year later, guess what – we got the same waiter! Not only super-attentive, he made a special-request drink for us! Hang on to this guy, Madeline's. We won't be waiting long to come back!
Bill Castello
Great stop food very good and the service was great from our server Matt.
Joe G.
Great place! Gives the impression of a sports bar but with the fine dining atmosphere. Food was delicious and service was good as well. Highly recommend!
Robert Cavall
The food was great, waitress was fantastic and the manager is an actual working manager, I would give you a 10 if I could. I highly recommend this restaurant and they really follow the social distancing. Don't let the prices scare you, it is truly worth the money. 💜
Carol Merkel
Perfect as always, Madelines has some of the best food around and an absolutely amazing atmosphere. Staff are always very polite and professional all around a great dining experience.
Chris Jamison
Made a dinner reservation around 5 & glad I did. The atmosphere was nice and cozy & the food was on point. Wine selections are plentiful.
Francisco Rivera
What a great "let's give it a try!" We decided to try something different and are so happy we did! Great place, great food and staff is incredible! Go! Go ahead and give it a try! The duck and lamb are a must!
Bobbie Sue Tyson
Great service! Everyone is extremely friendly and accommodating. They have cute color mates to keep children entertained. Great drink selections. Highly recommend any chef features. Enjoyed an amazing lobster crab cake feature. My friend absolutely loved the Brussel sprouts. I also loved the tropical mule.
Ashley Busch
Very friendly polite staff food came out relatively quick everything was very good no complaints from our party. Most of the menu was pricey 20-40 per but they do have things in the 8 -15 range. Will definitely be going back. They also have valet parking if interested. Very nice selection of wines.
Andrew Petruccelli
Fantastic! We used to frequent the old location, but haven't been to the new one until now. The food is still top notch and service was superb! My prime rib was cooked on point and the scallops were done to perfection as well. My martini was not too strong and had great flavor. I am glad to see that things have not changed on their quality. We will continue to visit here to eat for sure! I also highly recommend their Mango Vinaigrette for a salad dressing!
Ben Brill
Great service! Everyone is extremely friendly and accommodating. They have cute coloring mats to keep children entertained. Great drink selections. Highly recommend any chef features. Enjoyed an amazing lobster crab cake feature. My friend absolutely loved the Brussel sprouts. I also loved the tropical mule.
Ashley Busch
The Crab Florentine Benedict was delicious. My wife loved the quiche. A couple of manmosas to top off your brunch is highly recommended.
Fred B.
I have been here twice since it opened.. great food, great atmosphere…
Monica M.
Love Madelines. The food is fabulous and we are having our wedding dinner there tomorrow. They have been fabulous to work with. Valarie is great. They are so accommodating. Can't wait!!
Debbie E.
We came for brunch, we left with a new place to eat. Fantastic brunch. She had the french toast which was absolutely delicious. I had the meat omelette which also was delicious. The staff was nice and friendly. Attentive but not overbearing. Probably my new main spot to go to for lunch/dinner on the weekends.
Doug R
Had the piccata was amazing! Loved the sorbet palette cleanser. Will be back soon!
Jeremy H.
Amazing food. Great prices & portions. Was there for today's Fathers Day Brunch. Service. Ambiance. Decor all on point. Great Bar. Big TVs. Cant wait to go back. Glad is so close by! Loved the Fathers day drink choices today!
Dina K.
My (large) family come here every weekend for brunch or dinner. Menu is simple, food quality is excellent, and service is as good as can be. Ambience is also just right: Warm, upscale, but not pretentious. It is a great experience every time — each of us leave happier than when we arrived!
Kannan Shah
What a great place!! Delicious food , reasonable priced, friendly servers, gorgeous inside and out! Highly recommend!
Julie B.
The attention you recieve while experiencing this restaurant was remarkable. The cuisine very high grade quality. Presentation was spot on.
Eric Glenn
Great lunch place, get the duck poutine! Calamari was great too.
Paul
Beautiful interior; friendly staff; our waitress, Sarah, was great. We were there for brunch, and the food was delicious. We will return!
Gerry H.
Very nice place! My first time there. Apparently from the menu we were given, there's a specific lunch menu vs. dinner menu. I was hoping to have the dinner menu but my fault for not calling for information first as I've never had that experience. I very much enjoyed my lunch…burger was cooked perfectly as ordered. The creme brulee was delicious and our server could not have been any better. She was extremely nice! Will go back to try dinner!
Melissa R
They have a diverse menu, good service, and good safety measures. They also have outdoor seating with heaters, and it's rarely crowded recently. They also deliver!
Kail A
Food and service was amazing! Definitely delicious! Came here for our Anniversary. Everything was just what we were looking for to celebrate at a beautiful restaurant. You can't go wrong coming here for a fabulous time.
Debbie
Great crab cake and Pittsburgh Salad. the bartender at the outdoor bar was efficient and entertaining. Beautiful restaurant.
Carole H.
Our family met for brunch and a small baby shower. Great food and service. We enjoyed the mimosa and brunch specials. We are so happy we discovered Madeline's as a convenient meeting place.
Betsy Careyva
Such great service. Very cautious and clean. Their food and drinks were so amazing. All of us loved everything we got! Totally recommended and will definitely be back!
Emily Houck
The food was delicious. Portions were really good. Our server was great and drinks were yummy!!
Connie S.
Been here multiple times and every time has been great. Food and staff are wonderful. Highly recommend!
Jamie Dorsey
Always a great experience at Madelines, from service to food, simply perfection.
Howard Case
It's unique. Treat you well. Food is good.
John Hough Jr
This place has a warm, casual atmosphere with excellent food for a fine dining experience. I will be a repeat customer.
Effy3
Wonderful atmosphere, fantastic staff, and the house special's and cocktails are sublime.
Rob Weber
We stopped in for a late lunch. Clean, well staffed. Had the filet sandwich. So good. Some unique cocktails on the menu. Enjoyed one. Our server was attentive. Recommend, and will return.
John Evans
Food was delicious and staff was amazing. Great customer service. Definitely cannot wait to go back
Rachael Reichard
The best calamari ever 👍👍👍. French pork chop is excellent. The restaurant maintains safety very well. All silverware are wrapped in plastic and the service is excellent. Love this place and will always come back
Agung Fu
I had a spinach and tomato omelette with fruits and a biscuit. We had a large party of about 12 people and they did a great job! Thank you! One of my people at my table ordered stuffed French toast and it looked amazing.
Sophia Sealy
Great food! Friendly service!
Bill S.
We had a delicious bunch with a group of 8. Great menu. Everything came out perfect. Staff was very busy but very attentive. We will be back!
Lori Miller
My wife and I like to try new places and support local restaurants. We visited Madeline's, and we're glad we did. The food the atmosphere were excellent. The waitress Haidene was so nice and professional. The food was a little pricey but as the saying goes you only get what you pay for and it was worth every cent. Will be coming a regular there. Be seeing you soon.
Jeff Heintzelman
HOURS OF OPERATION:
Saturday & Sunday Brunch 10-3
Sunday Dinner 3-7
Monday - Friday Lunch 11-4
Monday-Thursday Dinner 4-9
Friday & Saturday Dinner 4-10
ADDRESS:
1250 Turnstone Drive
Fogelsville, Pennsylvania
CALL: (484) 277-2250